Booking Hotline: +49 221. 79 00 54 - 78 | email: getintouch [at] boothmodels.de
Booth Models Germany:
book Booth Models or exhibition staff for all major events and Trade Fairs in Germany
Browse in many german cities for ▶ female and male models and find your suitable staff for your upcoming Event in Germany.
Promotional Staff in our agency has got their own profile.
Each profile Languages Skills, Height, Dress Size and Experiences in field of promotion.


small overview of exhibition hostesses all over germany:
Pictures below show you small selection of promotional models or staff for events in general from our database in germany.
For more details, please press "show profile".


hire booth Models in Germany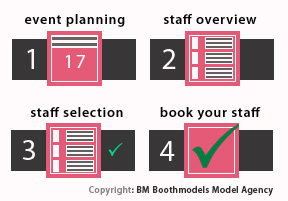 quote request booth Models germany
› You inform us about Event- or Trade Show Name with your Inquiry Details for models or promotional staff in Germany und we forward it to the appropriate staff in our database. › After receiving your Inquiry we will send your e-mail with staff overview as well as our price overview. › Staff who has reply for your specific Inquiry is visible online for you. › you can book your favorite exhibition hostess, promo girls, promotional staff (depends what you are looking for).
▶ female and male booth models with own profile
▶ online search function to find reliable event models for Events or Trade Fairs in germany
▶ Booth Models: German (Mother Langauges), English (Fluently) and other foreign languages - if needed
▶ Booth Models with excellent communication skills
▶ several thousand female or male models in our database
▶ book booth Models within few hours online with our qualified database management
We are looking forward for your Quote Request.
Booking Hotline: +49 221. 79 00 54 - 78 | email: getintouch [at] boothmodels.de